Francis Cassol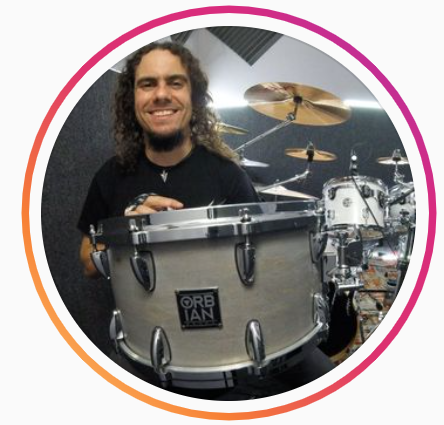 I am a Music Educator and Professional Drummer. Have been teaching private and group drum lessons for 15+ years, to all ages and levels. I have a Bachelor in Music Education, graduated with honors, and an AA in Drum Performance from the Musicians Institute, Hollywood/CA.

During my training in Music Education, I had the opportunity to teach unprivileged students at Escola de Música da OSPA (Porto Alegre's Symphony Orchestra school) and at Instituto Rio Branco to High School teenagers, both in my hometown, Porto Alegre, Brazil.

Along with my teaching career, I have been a very active performing drummer. I recorded three worldwide released albums with my former band Scelerata. I did five Brazilian tours (50+ shows) as Paul DiAnno's (former Iron Maiden's lead singer) official drummer, from 2009 to 2014. In the summer of 2017, I recorded my band's Rage In My Eyes' first album in Los Angeles. In 2021 I recorded Rage In My Eyes' second album. Being from southern Brazil, the band blends heavy/prog metal with elements of milonga – a music genre from southern Brazil, Uruguai and Argentina – presenting a piece of never-heard music before.

In March 2018, I performed in America's Got Talent winner Bianca Ryan's band, including performances in Los Angeles. In 2019 I played with three-time Grammy Winner Bobby Kimball from Toto. My intense performing career culminated with a five-page interview in Brazil's edition of Modern Drummer magazine, in the February 2013 issue. I am now a member of the Recording Academy, class of 2021. I am currently endorsed by Paiste Cymbals, Aquarian Drumheads, Orbian Drums, C. Ibañez Drumsticks, and Urbann Boards Drummer Shoes.
The Core by Rage In My Eyes